Mrs. Jareena begum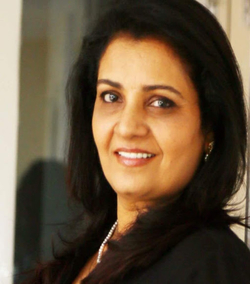 Mrs. Jareena Begum is a science graduate. Her penchant for grooming made her the first generation entrepreneur with the establishment of Mina Beauty Clinic -a pioneer in Kakinada, in 1984.
She is a seasoned professional, trainer and entrepreneur in the beauty and wellness industry with over three decades of experience.
A thorough professional, Mrs. Jareena believes the key to staying relevant is to keep educating self. She exemplifies continuous professional development with over 9 world class and 30 + India's illustrious institutions like C.I.D.E.S.C.O (Zurich), L'Oréal, Toni & Guy, ISB et al.
She trained hundreds of students who are now successful professionals and entrepreneurs. She also conducted several training workshops and offered her services to international brands
As an entrepreneur, her role in introducing the new and latest to Kakinada like professional beauty wellness services, international brands (beauty, hair, makeup), products and techniques to specialised services such as Eyelash extensions, Micro blading, Airbrush makeup, Anti-Ageing treatments viz., Mesotherapy & Dermabrasion, Energy healings like Access bars, Crystal healing, Sound healing, Reiki, and Pranic healing, is pivotal.
Her commitment to providing quality services and training has carved a nlche and earned the reputation to be the most dependable and preferred destination for Beauty, Hair, Makeup & SPA services and training in and around Kakinada. This prompted to grow organically and through franchises, making the presence more prominent and strategic.
She has many feathers in her cap. She was part of Group Study Exchange program with Rotary to the USA. Recipient of Best student of the year award from CIDESCO(Zurich), full scholarship for the complete curriculum from L'Oréal( Paris), full scholarship for Goldman Sachs 10,000 women entrepreneur program with ISB (Hyderabad), to mention a few.
To share her expertise. technical know-how, she launched Zara Beauty SPA &Fitness Pvt Ltd., as Co-Founder and Technical Director.
To go beyond and reach out to fellow professionals and those aspiring to be part of the beauty and wellness industry. Association of Beauty Therapists and Cosmetologists – Andhra Pradesh (ABTC – AP) is initiated and presided by her. The association aims to provide relevant and up to date skills and trends in the industry.