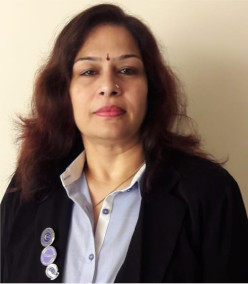 Mrs. Radha Saraswathi Metta
Trained from India most prestigious institutes from New Delhi, Mumbai, Pune, Bangalore and Hyderabad.
International Diplomas from UK, USA and Switzerland
FORMAL EDUCATION:
B.Sc Home Science from Andhra Pradesh Agricultural University, Hyderabad, Andhra Pradesh – 1985
M.Sc Home Science from Gandhigram University, Madurai, Tamilnadu(Gold Medalist) – 1988.
TECHNICAL EDUCATION:
Honours Diploma in Computer Science from NIIT – 1995
D Pharm (Shoba College of Pharmacy, Erode, Tamilnadu) – 2002
HAIR AND BEAUTY EDUCATION:
Diploma in Beauty Culture Slim & Hair – 2003 at K.S Beauty Institute, Hyderabad.
Practical Training from Advait Bio-Tech, Bangalore -2004.
Herbal Bio-Cosmetics and Modern Hair Cuts.
Basic and Advanced Aroma Therapy – My Fair Lady College of Beauty Therapy Hair Dressing and Cosmetology, Erode, Tamilnadu
Neibtac New Delhi – Diploma in Advanced Hair Dressing and Hair Cuts – 2005
Affiliated to Cibtac (Confederation of International Beauty Therapy and Cosmetology – London).
Elle Passion, Faridabad, new Delhi – Advanced Diploma in Hair Styling – 2007
Aesthetician Diploma from Neibtac Tattooing
Association of Beauty Therapy and Cosmetology(ABTC) – Life Member Reg No. 106908.
Cosmetology Society of India (CSI) Mumbai Life Member.
Cidesco National Division (CND) Association of Beauty Therapy and Cosmetology (India) CIDESCO No: 0900313
Diploma in General Aesthetics – Butic College of Beauty – 2007
Diploma in Beauty culture – Butic College of Beauty – 2007
Diploma in Body Therapy – Butic College of Beauty -2007
Kryolan Professional Makeup – 2007
CIDESCO –  Comite' International D'esthe'etique Et De Cosme'tologie
Zurich, Switzerland – 2009, CIDESCO No: 090013-2009
CIBTAC  -Confederation of International Beauty Therapy and Cosmetology London – England Facial Electrical Treatments – 2009
Ask Education Schwarzkopf Professional, Banglore, Hair Training on Essensity, Strait Styling Glatt, Strait Therapy, Fit for color, Curl it Up.

Essential Looks – 2011 from Emeralde International Institute of Hair and Beauty.

Skin Peeling – 2012 from Emeralde International Institute of Hair and Beauty.

City & Guilds UK London (India Skills) International Hair Diploma  – 2012 from Emeralde International Institute of Hair and Beauty.

Ear Lobe Repair – 2013

Nail Extensions Using Silk, Acrylic and Fibre Glass -2013 from Emeralde International Institute of Hair and Beauty.

Nail Art and Metallic Wrap – 2013

SPA Therapy Diploma International -2015

PG AROMA CIDESCO 2018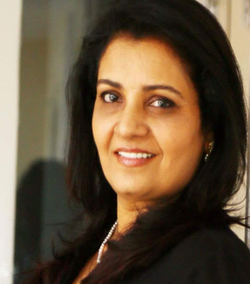 Mrs. Jareena Begum
Mrs. Jareena Begum is a science graduate. Her penchant for grooming made her the first generation entrepreneur with the establishment of Mina Beauty Clinic -a pioneer in Kakinada, in 1984.
She is a seasoned professional, trainer and entrepreneur in the beauty and wellness industry with over three decades of experience.
A thorough professional, Mrs. Jareena believes the key to staying relevant is to keep educating self. She exemplifies continuous professional development with over 9 world class and 30 + India's illustrious institutions like C.I.D.E.S.C.O (Zurich), L'Oréal, Toni & Guy, ISB et al.
She trained hundreds of students who are now successful professionals and entrepreneurs. She also conducted several training workshops and offered her services to international brands
As an entrepreneur, her role in introducing the new and latest to Kakinada like professional beauty wellness services, international brands (beauty, hair, makeup), products and techniques to specialised services such as Eyelash extensions, Micro blading, Airbrush makeup, Anti-Ageing treatments viz., Mesotherapy & Dermabrasion, Energy healings like Access bars, Crystal healing, Sound healing, Reiki, and Pranic healing, is pivotal.
Her commitment to providing quality services and training has carved a nlche and earned the reputation to be the most dependable and preferred destination for Beauty, Hair, Makeup & SPA services and training in and around Kakinada. This prompted to grow organically and through franchises, making the presence more prominent and strategic.
She has many feathers in her cap. She was part of Group Study Exchange program with Rotary to the USA. Recipient of Best student of the year award from CIDESCO(Zurich), full scholarship for the complete curriculum from L'Oréal( Paris), full scholarship for Goldman Sachs 10,000 women entrepreneur program with ISB (Hyderabad), to mention a few.
To share her expertise. technical know-how, she launched Zara Beauty SPA &Fitness Pvt Ltd., as Co-Founder and Technical Director.
To go beyond and reach out to fellow professionals and those aspiring to be part of the beauty and wellness industry. Association of Beauty Therapists and Cosmetologists – Andhra Pradesh (ABTC – AP) is initiated and presided by her. The association aims to provide relevant and up to date skills and trends in the industry.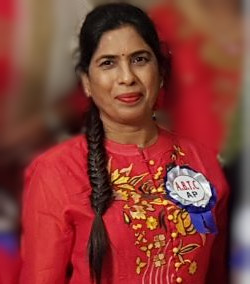 Mrs. Krishna Kumari
Establishment and Expansion
Started operating in the year 1989 as "CHARMS BEAUTY CLINIC" with an operating area of 2,000 s.ft. currently expanded to three locations with total s.ft of 7,000.
Initial expansion in the year 1996.
Opened UNISEX SALON in the year 2011
Present staff employed 35 members
Recognitions/Awards Won
AIHBA: INDIA
PBA : Professional Beauty Association ( USA) Scottsdale
MEMBER of Rotary International Service organization
SIBSC: South Indian Beauticians Services Center, Jaya Prada charitable trust
Best supporting Rotarian of the club in the year 2001-2002
Best President Rotary international Service Organization ( Dist 3020) in the year 2010-2011
South Zone Winner 2012-2013 [Lotus Beauty Star, Bali]
R.I dist. Regional Chair Women Empowerment in the year 2012-2013
Accomplishments and certification courses:
Healing Arts Center [St. Louis, Missouri, USA]
Certified in Indian Head Massage
Trained in Massage tools
PIVOT POINT
Trained at HABIBS Hair Academy
Advanced Hairstyling in the year 2001
Fashion hair colors at Cosmetology Institute in the year 2001
Special course on chemical Process on Hair in the year 2005
Advanced Workshop In Hair fashion in the year 2006
Participation in an exclusive Workshop in the year 1998
Diploma in Hair Dressing & Beauty Therapy in the year 1989.
Merit for Facials n Body massages at GEHINI Beauty parlour at Visakhapatnam in the year 1993
Merit for Hair Dressing at GEHINI Beauty parlour at Visakhapatnam in the year 1993
Trained at JACKO for International Aesthetic treatments in the year 1997
Trained THREE FACES OF KRYOLAN at Hyderabad in the year 2007
ASSOCIATION WITH RENOWNED PROFESSIONAL INSTITUTIONS
JAWED HABIBS Hair Academy
PIVOT POINT
SHANAZ HERBAL
EMARALDE [Marium Zaveri, Mumbai]
HEALING ARTS CENTER. (USA).
Social Responsibility Activities
An active member of Rotary International 3020 and contributed to the increasing memberships
Actively participated for flood relief and women empowerment
Identified women in need and conducted free training beautician course for 150 members.
Provided funding for educating the talented economically weaker students.
Conducted workshops for teenagers from government institutions – educating them on hygienic grooming techniques. – 10,000 students for a year.
Blood donation camps organized and sponsored by Charms.